Have you booked an accommodation at a hotel in Phuket, Thailand for your next holiday? If so, you're probably preparing your travel itinerary right now. But then you stop and think: which places should you visit to make the most of your Thailand vacation? To help you plan for a remarkable trip, here are some suggestions:



1. Phuket Old Town - Located within walking distance from the city center, this historically rich area features a group of buildings that boasts European colonial architecture that's well-preserved up until this day. The structures were built during Thailand's tin boom of the 19th century and are characterized by an architectural style described as "Sino-Portuguese," which has a strongly Mediterranean character. Some of the edifices in the area include stately mansions of tin barons from 100 years ago, as well as ornate shophouses, printing shops, cafes, museums, shrines, and temples.

2. Wat Chalong - Among the 29 Buddhist monasteries in Phuket, Wat Chalong is probably the largest, most important, and most elaborate of them all. It is visually dazzling, with the temple consisting 3 floors and containing interesting murals. But besides its impressive design, what draws travelers to Wat Chalong is the history behind it. The monastery was built in commemoration of 2 venerable monks, Luang Pho Chaem and Luang Pho Chuang, who were instrumental in ending the tin miners' rebellion of 1876. Both were also renowned for their knowledge in herbal medicine, which they applied as they treated the injured during the said revolt.

3. Phuket FantaSea - This 140-acre site is promoted as "the ultimate nighttime cultural theme park." Grandiose in every level, Phuket FantaSea is the island's biggest show, featuring a Las Vegas-style spectacle of Thailand's myths, legends, and history. Highlights of this attraction include pyrotechnics, aerial ballet performances, battle reenactments, magic shows, and song and dance numbers by a cast of hundreds. Other things to watch out here are The Palace of the Elephants, a 3,000-seat theater, plus its superb shopping and dining choices.

4. East of Eden - Located east of Koh Pa-Yu, it is considered one of the best dive sites in the country. Its reef slope ranges from 5 to 40 m, making it an ideal destination for both novice and professional divers. Its main attraction is the pinnacle called Ruan Gluay-Mai, which is covered in soft corals and sea fans. And aside from a sight of various kinds of fish and beautiful coral gardens, it also features interesting caverns, some of which divers can swim through.

5. Patong Beach - Originally a fishing village, this 3-km shoreline is currently Phuket's most developed beach. It boasts a vibrant nightlife, and myriad shopping, dining, and recreational options. A number of hotels have also sprouted in the area, from exclusive resorts like Ayara Kamala Resort & Spa to boutique hotels like Club Bamboo Boutique Resort & Spa. Despite the modern fixtures found in Patong Beach, its natural setting still exudes much beauty, and provides an excellent location for water sports like snorkeling, waterskiing, windsurfing, parasailing, and sailboarding.

[caption id="" align="aligncenter" width="725"]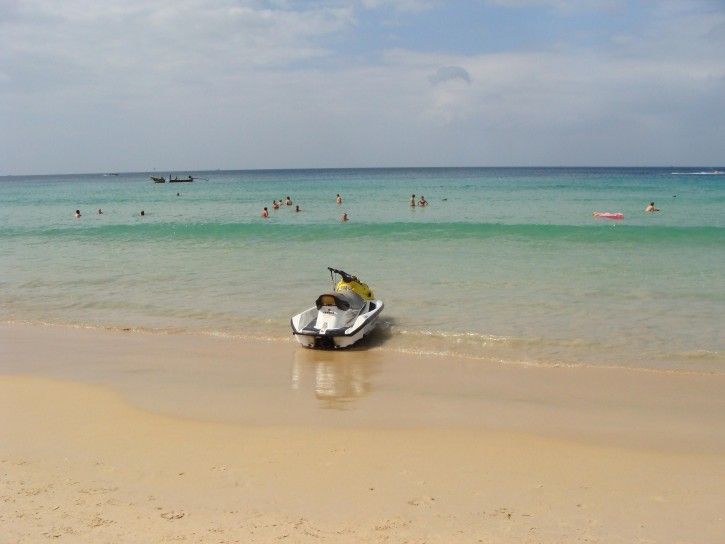 Phuket Beach Tahiland[/caption]

These 5 places are not to be missed during your trip. So upon arriving at your hotel in Phuket, Thailand, leave your bags in your room and explore these fantastic sites.

Holidaying is really a fantastic experience when you visit Phuket, Thailand. It offers varieties of attractions to tourists who come there from across the globe to witness the natural beauty of the place, which is popularly called the Paradise Island of Asia. If you plan to enjoy the vacation in a relaxed mood staying nearer to the nature, you should choose Phuket as the right travel destination.

The holiday destination provides opportunities for every member of the family including honeymooning couples who would like to enjoy the vacation in an exclusive manner. The tropical tourist spot is best enjoyed during the peak tourist season when the weather is clear with decent blue sky accompanied by occasional showers to create mesmerizing environment. It includes the wonderfully developed beaches with a wide range of facilities for people of all ages and that is why it is considered the world travel destination.

It is a great opportunity for the traveler to explore golden sandy beaches, exciting water sports, exotic nightlife, delicious Thai cuisine and many more facilities, which are abundantly available in Phuket. You can also enjoy the beauty of the tropical nature and the rich cultural heritage of the place.

[caption id="" align="aligncenter" width="725"]
Road to Phuket Beach[/caption]

Tourists appreciate the beauty of sea including the incredible marine life and the large varieties of scintillating water sports. If you love adventure tourism, take the tour to mysterious caves and strangely curved rocks in the adjoining sea and capture breathtaking pictures to keep the holiday trip memorable.

It is wise to take a tour of various famous attractions through the day travel package tour and visit the Phra Thaeo National Park to observe the breathtaking sunset scene. You should also visit the Orchid garden to have a glimpse of different species of tropical nature and the Phuket Aquarium for acquiring fresh knowledge on marine life. Make a tour of Thai villages and witness local festivals such as the Nine Emperor God Festival held in every October.

The nightlife in Patong area is a fantastic experience for the young traveler. You can spend an extraordinary party time with friends and relatives on Kamala Beach in the environment of Disneyland. Alternatively, enjoy a peaceful time on the Surin beach or on the Karon beach. The ideal choice for a family holiday is the Nai Ham beach where you get many facilities for everyone in the family. Choose Phuket, Thailand as the right travel destination in the next holiday season. Phuket Thailand is a top class travel destination in the world. Enjoy your trip to Phuket as the next holiday destination.