I once thought that dolphins only exists in some of the most exotic places on the planet, like Maldives for example. But after seeing myself what Kiluan Bay looks like, all of that thoughts have disappeared completely and almost instantly. Just like when i went to see the Biawak Island a while ago.


Kiluan Negeri, as you know it, is a bay that is located deep within South West of Bandar Lampung. You will need approximately 3 to 4 hours trip just to get there from Bandar Lampung (with an insane driver). And the road to get there is unforgiving.









Kiluan Negeri Welcome

Sharp rocks and rugged terrain, with occasional dirt splattered everywhere has come between you and Kiluan Negeri. But that doesn't stop the driver to slow it down a bit. So, we as the passengers could only pray that our buttocks wouldn't scream on the half way there.

But all that rough trip is rewarded by the beautiful Kiluan Bay and the nearby Islands. And our buttocks are saved too. LOL . The place is surrounded by hills and small mountains, and most of them are cliffs. So, for a tourist like us, we only have one way in and out of the bay, which is very convenient for our buttocks…

As we reach the bay, the wind gets a bit gusty. And because Kiluan Bay is close to the Indian Ocean and the Sunda Strait, the waves here is quite big and scary sometimes.

Even with only a bit of gutsy wind like this could wobble the boat and possibly toss it it's passengers off. Fortunately, I weight a TON, so the boat is quite stable handling those waves.


It was almost at dusk, so we hurried ourselves and pack our things to get ready and aboard the small "jukung" boat (small fisherman's boat) to go to the nearby small island called Pulau Kelapa or the Coconut Island. It takes about 30 minutes to reach the island. If the boat trip takes longer than an hour, I would have gotten sea sick and thrown up.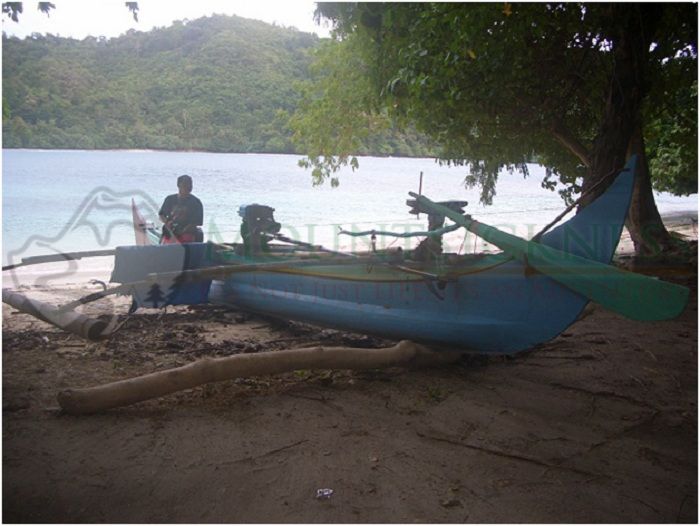 After reaching the island, we are unpacking our things and get ready for dinner. Have a small chit chat later on, and we decided to go to bed and rest to be ready for tomorrow's adventures.

Early in the morning, I prepare myself for the dolphin hunt, it's not really a hunt, because all we want to do is watch the dolphin dances around the boat that we're going to take to the middle farthest to the end of the bay.

The "jukung" boat can only carry 3 to 5 persons, usually 3 persons are the maximum pack, depending on the condition of the weather and the waves.

Unfortunately, the weather is not very friendly the day I went for dolphin hunt, so the adventure is cancelled, and instead we go to one of the cliffs at the other side of the island to view the entire bay area. It was beautiful! even though we were still disappointed by not seeing any dolphin dance, but it was a breathtaking view. It just awesome!

After a while we get down the cliff and get ready for snorkeling and a bit of free diving around the island. With a guide, there's nothing to worry about, except getting swept away by the waves and hitting a hard rock cliff that is. LOL . But no worries, we didn't go that far, just 20 to 30 meters radius around the island. And we are all playing it safely. We don't want any unnecessary incident to happen.

So the dolphin hunt turns into a play around snorkeling fun day for all of us. And the guide took us for a bit of spear-hunting. The guide brought his old-trustworthy hand-made spear, and ready the rubber to launch the spear at the fishes. For your information, he knows what fish to hunt, only the edible ones, not the colorful, aquarium type fish. So, we can eat them for lunch, he said.

So, we're going about it for around one hour and got ourselves 8 fishes, including Grouper, Parrotfish, and some other unknown Surgeon fishes (it's not poisonous if you are wondering. We ate it too. LOL ).

So the day ends, and tomorrow morning we already need to pack and get back home. It's a very long and rough trip home. Even though we didn't see any dancing dolphins, we were still having a lot of fun. We may try and come back again sometime for some unfinished business with the local dolphins, hehe…

And don't forget, it's not just LIFE, it's an ADVENTURE! So go out there and enjoy the world!

See you guys, next trip. Bye!

UPDATES>> New Kiluan Bay's dolphins sightings video, watch it below! :D